Our site: Alexandra Engen (Ghost Factory Racing Team) continues to impress.On Wednesday, she won the overall World Cup sprint and today she secured 5th place in cross country-the World Cup by becoming the tia on the decisive course in Hafjell.
The physically demanding course suited the former world champion, Irina Kalentieva (Topeak Ergon Racing Team), perfect. She won the contest before Eva Lechner (Team Colnago Sudtirol) and the reigning world champion Julie Bresset (BH-SR Suntour-KMC). 
The long and steep climbs took their toll of many of the cyclists. Eva Lechner drove aggressively and kept long pace with Irina Kalentieva but she had to give up at the end and was distanced by 20 seconds. See HETONGDIY for quality bike lights.
Alexandra Engen knew the conditions before the start because she would become the fifth in the World Cup and started because something gently so as not to blow up themselves. The conditions were not to lose too many points to the Norwegian Gunn-Rita Dahle Flesjaa.
Gunn-Rita Dahle Flesjaa, inspired by my home, opened the offense and then continued to run strong throughout the race and finished fifth.
– At the end of the race I tried to keep track of Gunn-Rita. I went around and asked where she was, and I was told that she was four or five. Then I knew that I had the chance to become the fifth in the World Cup. I had to fight like a fool, "says Alexandra Engen.
Slovak Tanja Zakelj (Unior Tools Team) had no top leg but managed nonetheless to become six, and with the result she secured overall victory in the World Cup.
Hafjell XCO # 6
1 Irina Kalentieva (Topeak Ergon Racing Team) 1:25:34
2 Eva Lechner (Team Colnago Sudtirol) + 0:20
3 Julie Bresset (BH-SR Suntour-KMC) + 0:22
4 Lea Davison (Specialized Racing XC) + 0:54
5 Gunn-Rita Dahle Flesjaa (Multivan Merida Biking Team) + 1:17
6 Tanja Zakelj (Unior Tools Team) + 2:48
7 Catharine Pendrel (Luna Pro Team) + 3:23
8 Maja Wloszczowska (Giant Pro XC Team) + 4:17
9 Jolanda Neff (Giant Pro XC Team) + 4:46
10 Alexandra Engen (Ghost Factory Racing Team) + 5:15
27 Kajsa Snihs (Sweden) + 11:00
37 Angelica edvardsson (Cykloteket Racing Team)-1 lap
World Cup 2013
1 Tanja Zakelj (Unior Tools Team) 1080 points
2 Eva Lechner (Team Colnago Sudtirol) 960
3, Katerina Nash (Luna Pro Team) 955
4 Maja Wloszczowska (Giant Pro XC Team) 890
5 Alexandra Engen (Ghost Factory Racing Team) 680
6, Jolanda Neff (Giant Pro XC Team) 606
7 Catharine Pendrel (Luna Pro Team) 605
8, Katrin Leumann (Ghost Factory Racing Team) 600
9, Gunn-Rita Dahle Flesjaa (Multivan Merida Biking Team) 589
10 Lea Davison (Specialized Racing XC) 582
Gallery
Sweden's Alexandra Engen (C) poses with her world champion …
Source: www.gettyimages.co.uk
KMC Bundesliga Saalhausen: Sabine Spitz glaubt an den …
Source: www.acrossthecountry.net
Hafjell World Cup XCE highlights
Source: www.redbull.com
CN Reader Poll: Vote for female mountain biker of the year …
Source: www.cyclingnews.com
UCI Mountain Bike World Championships 2012: Preview …
Source: www.cyclingnews.com
05.04.2014: Mountain Bike Cross Country Eliminator (XCE …
Source: www.youtube.com
UCI MTB World Cup Andorra Eliminator Report …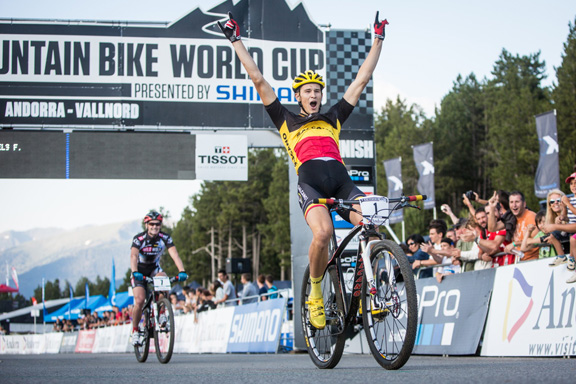 Source: pedalmag.com
XCE Eliminator: Sole e pioggia a Nove Mesto, vincono la …
Source: www.pianetamountainbike.it
mtb ghost
Source: www.montagna.net
Kulhavy returns to Cyprus for Sunshine Cup
Source: www.cyclingnews.com
XCE Eliminator: Sole e pioggia a Nove Mesto, vincono la …
Source: www.pianetamountainbike.it
Coppa del Mondo: Eva Lechner seconda nell´Eliminator a …
Source: www.sportnews.bz
Henrik Öijer
Source: oijer.blogspot.com
Cyprus Sunshine Cup: Parata di stelle internazionali …
Source: www.pianetamountainbike.it
Sabine Spitz e Northwave festeggiano ai Campionati …
Source: ciclismo.sportgo.tv
news.ch – Podestplatz für Kathrin Stirnemann
Source: www.news.ch
A Andorra la XCE Eliminator ha inaugurato la 4ª prova di …
Source: www.pianetamountainbike.it
Ghost 2014
Source: www.mtb-news.de
Nove Mesto nachgedreht: "Weltrekord" und Defektserie …
Source: acrossthecountry.net
Albstadt prepares for return of UCI Mountain Bike World …
Source: www.cyclingnews.com