How to improve your average speed is an important factor in the question of training but that is not the only that you need to think. There are several other things, today we will be talking about three tips for you to improve your average speed.
How many cyclists you should also ride quite, or at least during the free time that you have you should take advantage of to make your pedal, but unless you are following a Training Plan right, the majority of your training are all the same.
Not that this is a bad thing, all trainings will give you a certain physical fitness, and even help a little in weight loss, but comes at a certain time of the training that you do not have a win to their conditioning.
You already can't lose weight and you cannot even improve your average speed, which is our topic today.
Then from there it is very difficult to you to evolve with the same training as you do always. So if you are a cyclist who wants to improve your fitness, and your average speed pay attention to the three tips that I will pass now:
1. 

Longão:

As the name itself says it is the workout more throughout the week, is the training base for you to build a physical way and to make foundation continuamento. So, it is usually where you will have a greater volume of training, and is not intended intensity.

For many cyclists, longão is above 3 hours and it is a workout that bulky where you will build the foundation of your physical fitness.

Make sure you have at least a longão during the week, these workouts develop your fibers red, which are the muscle fiber contraction and also endurance. They help eliminate lactate in muscle.

They house the largest part of the mitochondria, producing energy from your muscle. These trainings stimulate the growth of mitochondria and improve their function. So you can save more muscle glycogen and, consequently, go faster, stronger, and longer in your workouts.

The training comprises all the stages of your training. During this base period, you make 2, 3 or 4 longões during your week.

Considering that you have already made a training base nice and already is with his conditioning and the foundation built, now you will make only a longão per week.

These longões, are training focused to increase and improve your strength and therefore are bulky and are not of high intensity.

So these are the workouts that focus more on your zone 2 and 3 heart rate or if you use a power meter, from 50% to 70% of your FTP.
2. 

Training of shots more long

You will realize that your fitness has improved with your training base and with the longão, their average speed went up, his conditioning is better and you want to keep it.

For you to maintain that speed or even improve it you will need to make more shots long. When we talk about shots, we do not refer to the sprints, which are workouts that require all your effort.

This is an effort more consistent and longer. So, it is recommended that shots from 10 to 15 minutes zone 3 high almost zone 4, which would be 75% to 85% of your maximum heart rate, or if you use a power meter of 75% to 85% of your FTP.
3. 

Interval intense

Are the Sprint, here you will use your maximum effort and will make the force of truth, however the sensation of pleasure provided by endorphin is very good.

It is difficult but, it is very valid. Are Sprints are difficult but they will improve your VO2 max and Lactate Threshold, which consequently will greatly improve your conditioning and even the average speed.

Try to do 3 or 4 Sprints of maximum strength, which may be 30 seconds to 2 minutes, there will depend on his conditioning.

This training will focus on zone 5, that is, from 95% to 100% of its maximum frequency. If you use your power meter is 100 to 130 of your FTP. It is a workout that can be painful and difficult, so you should do only once per week to avoid injury. Do not stay stagnant, make your workouts different.
Gallery
5 Ways to Improve Your Average Cycling Speed
Source: blog.mapmyrun.com
7 Ways To Improve Your Average Speed On A Road Bike
Source: www.roadbikereview.com
13 ways to increase your average cycling speed
Source: www.cyclingweekly.co.uk
Average cycling speed: 11 tips to cycle faster
Source: www.cyclist.co.uk
How to increase average speed cycling?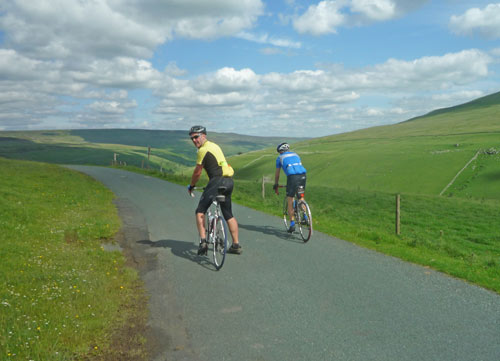 Source: cyclinguphill.com
How to get faster and increase your average cycling speed …
Source: www.cyclingweekly.com
13 ways to increase your average cycling speed
Source: www.cyclingweekly.co.uk
How to get faster and increase your average cycling speed …
Source: www.cyclingweekly.com
How to Increase Average Speed Cycling?
Source: cyclinginfo.co.uk
5 Ways to Increase Cycling Speed
Source: www.active.com
How Can I Increase my Average Speed on my Road Bike?
Source: roadcyclistsguide.com
13 ways to increase your average cycling speed
Source: www.cyclingweekly.co.uk
How to cycle faster and increase your average speed …
Source: www.cyclingweekly.com
10 Tips To Improve Bike Riding Speed
Source: blog.coxandkings.com
10 Ways To Improve Your Average Speed On The Bike – Cycle …
Source: www.youtube.com
How to Improve Cycling AVG Speed
Source: www.livestrong.com
7 Ways To Improve Your Average Speed On A Road Bike
Source: www.roadbikereview.com
5 Ways to Improve Your Average Cycling Speed
Source: www.mapmyride.com
Training
Source: brackleynovacycling.co.uk
5 Ways to Improve Your Average Cycling Speed
Source: www.mapmyride.com